Collect any information from your attendees or ask them any question
T-shirt size, age, meal preference, how they found you and more
Custom fields can be either optional or required
Attendees will answer questions upon registration
​
​To get started, log in to your Ticketbud account and click My Events from the top navigation bar.  If you haven't yet, click here to sign up for a Ticketbud account to start creating events. 
Once logged into your account, click on Manage Event, then click Custom Questions on the toolbar to the left.​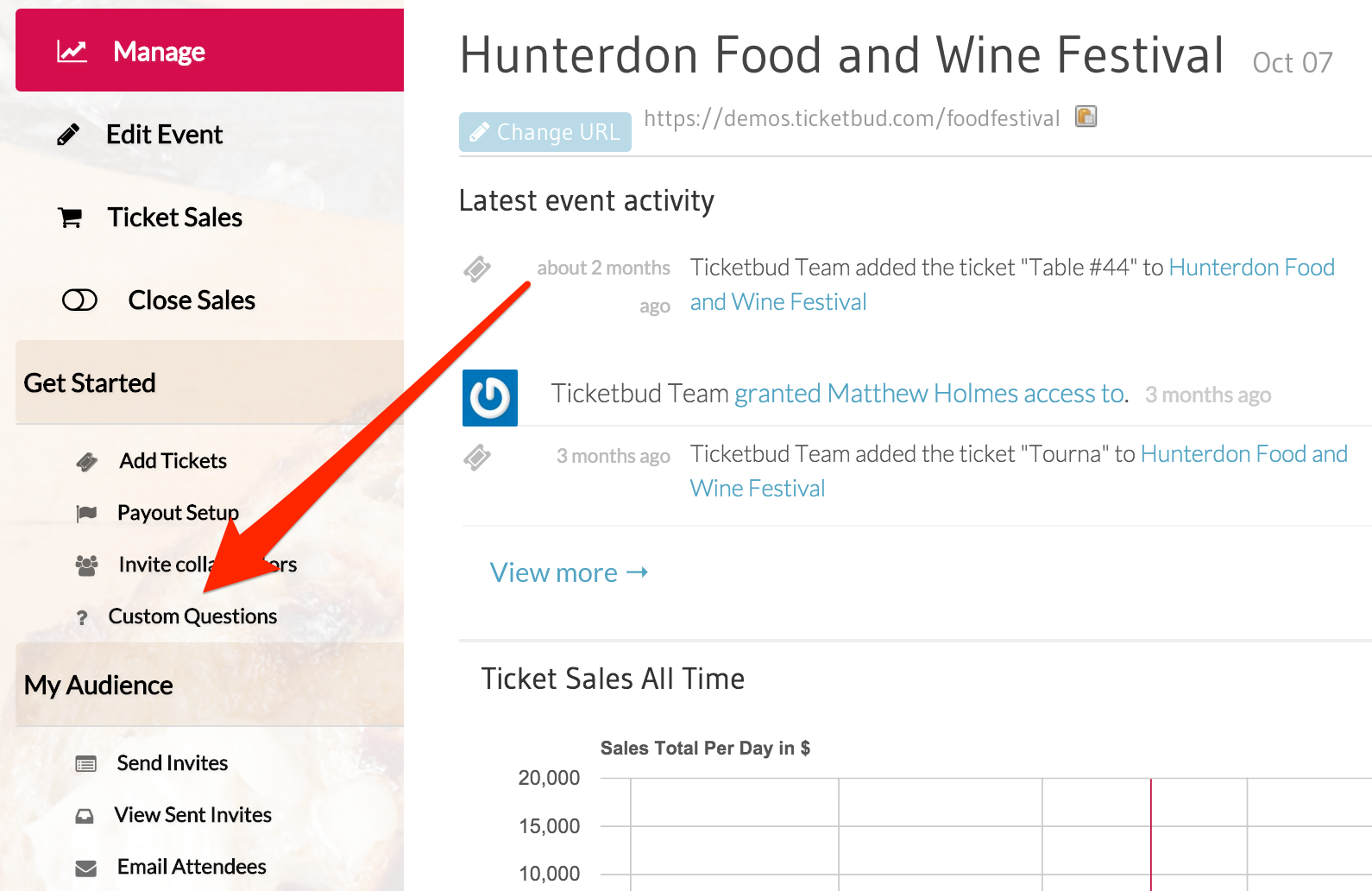 The Custom Questions feature allows you to collect valuable information from your attendees.  By using this feature, you can learn more about your attendees and make the organizational process even smoother!  Read below on to how to use this feature.                                                                                                                                 
When on the Custom Questions page, click Collect Custom Data? and change to Yes to begin.  From here, click Add Custom Question. ​                                                                                                                                                                                                     
In the Add A Custom Question window, choose the ticket types that your question applies to.  If the question applies to multiple tickets continue clicking on ticket types to add them.  Next, input your question into the Question/Label field.

Then, select either text, dropdown, or radio for the Input Type.

Choose text for an open field text box.  Choose dropdown to create a list of possible answers for your attendees to choose from.  Choose radio to create a radio button for your attendees to click from.  If you choose dropdown or radio, type in the options to choose from and simply click enter.

Finally, set the question to be required or optional under the Required? field.  If the question is required, your attendees must answer it before progressing to the checkout page when purchasing tickets.  Click Add and you are finished!​                                                                                                                                                                                                                                                                                                                                                                                                                                     
After creating your custom questions, you can always choose the order of the questions by clicking and dragging the arrow button.  You can also delete a question at anytime by clicking the X button. 

Tip: If you need to view the information you have collected, go to your Ticket Sales page and click Export Tickets.  You can also view individual answers from your Ticket Sales page by clicking the + icon next to the ticket purchaser.
Please don't hesitate to contact us for any future questions or concerns via help@ticketbud.com