When you setup your event to use PayPal, setting up their Instant Payment Notification Service (IPN) is required.
Ticket purchasers can use credit cards to purchase tickets (they do not need PayPal accounts).
Ticketbud listens for the successful payment notification from PayPal in order to release a ticket to your attendee. This works smoothly and transparently once set up with the following instructions. 
If none of your attendees are receiving their tickets, then it is very likely that there is an issue with the PayPal account you have setup for the event, and very likely the IPN notifications.
Important: Instant Payment Notifications are not sent for unverified accounts. If your PayPal account is not verified, instant payment notifications will be sent out from PayPal. If Ticketbud doesn't receive a notification that you have been paid, we don't know that it's okay to release a ticket.
Steps to configure IPN Settings
Login to your PayPal Account:
Go to your "Profile" icon to the right of the top navigation bar and from the Business Profile menu, select Profile and Settings, then select My selling tools (Note: If you do not see the profile icon on the top right, from the main dashboard scroll down to Selling tools, select Seller preferences, and skip to Step 3)
Click the Update link in the Instant payment notifications row, in the Getting paid and managing my risk section.
Click Choose IPN Settings to specify your listener's URL and activate the listener. The following page opens:
Enter in the following information for Ticketbud:
Once the IPN is enabled are purchases going forward should go through without an issue. For purchases that happened prior to the IPN being enabled, click on the link that says "View IPN History". In here you will be able to see the purchases that were attempted and an option to resend them. Click resend and that should fix the issue!
Please ensure that your PayPal account's character encoding settings are set to UTF-8. Other encoding settings could prevent PayPal from being able to properly manage transactions.

Log into PayPal and click on Seller preferences. See image below. 

a. If you are using the classic PayPal layout click on the following Profile tab. See image below.

b. If you are still using the old style click on My Selling Tools. See image below.

2. Click on PayPal button language encoding. These settings can be found towards the bottom of the page you are viewing. See image below.

3. In the following image Language Encoding click on More Options button. This will allow you to set up the encoding format.

4. The following image More Encoding Options displays a dropdown menu. Select UTF-8as illustrated below. Make sure you click on Save button when you finish setting up the language encoding option.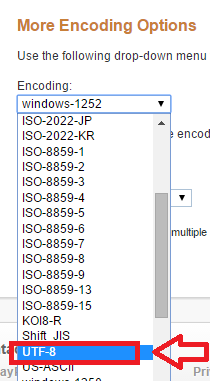 Note: Leaving your default IPN URL as https://ticketbud/ipn configures your account to send all of your account purchase notifications to Ticketbud, even ones in the future which may not be related to Ticketbud. If you are not comfortable with this, remove the URL after your event is over. 
If you perform these steps and your customers still do not receive their tickets, please contact us and our team would be happy to walk you through a working solution.