The invite collaborators feature allows you to provide users admin access to your event. Users given privileges can make edits, access reports, check guests in and manage the event. Users given privileges cannot access or modify payment information.
How to Invite Collaborators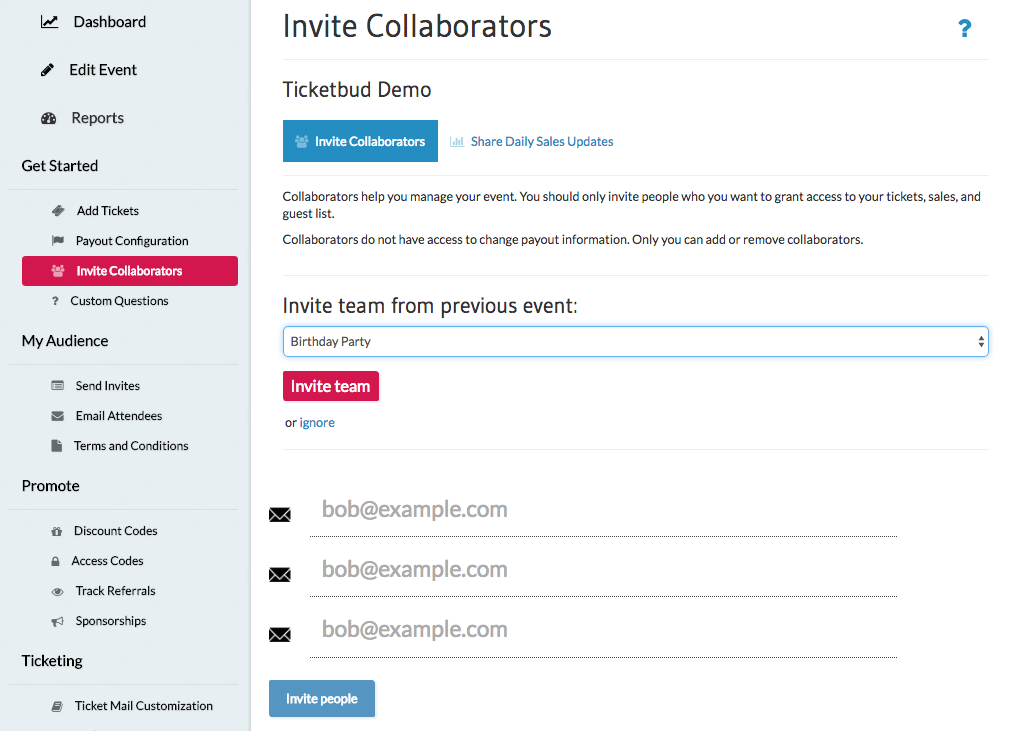 Enter the email address(es) of your collaborator(s) in the empty field and click Invite People. You can add additional collaborators later by selecting the Add Collaborator icon which will appear once you've started inviting people.                                                                                                             
The user will receive an email at the address provided inviting them to collaborate. If they already have a Ticketbud account, the event will appear in their My Events view once they accept the invitation. If they don't have a Ticketbud account, they will be prompted to create one. 
You can also invite collaborators from previous events by choosing the event from the dropdown menu and selecting Invite Team.
Additionally, you can click on the Share Daily Sales Updates tab located next to blue Invite Collaborators icon, to share daily and total ticket sales tallies. Enter the recipients email and click Add Subscriber.
You still maintain the ability to revoke a users access at any time! 
To watch a video walkthrough of how to invite collaborators click here. If you have any additional questions, feel free to email us at cs@ticketbud.com.                                                                                                                                                                                ​