**This option will only appear once you have sold your first ticket.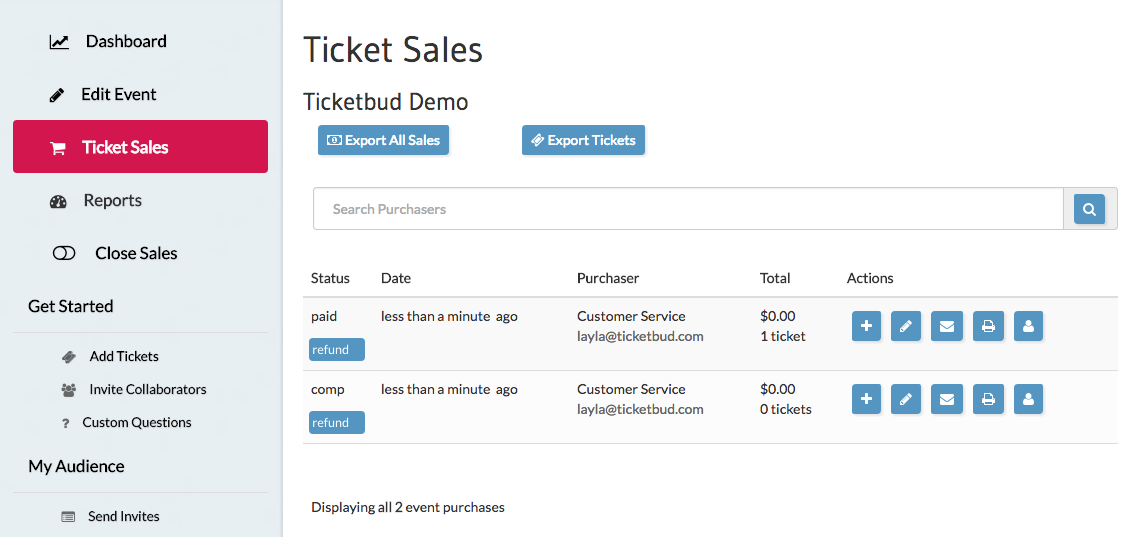 Status
paid: transaction successful, payment collected. Transaction will show as paid for offline tickets issued. 
pending: transaction captured but is being reviewed by the payment processor (generally applies to events using WePay).
comp: comp ticket issued by event organizer. 
Refund 
Check out our refunds help article here.
Date
Time frame of when the purchase was made. Hover over the text to view the exact time and date.
Purchaser
Ticket purchaser name and email.
Total
Total amount paid. 
Actions

 View list of ticket holders
Edit custom question information collected (if applicable).
Delete tickets with the x icon listed beside each ticket holder. Deleting a ticket will not refund the transaction. It will add the ticket back in inventory and deduct from your gross sales. To issue a refund, use the Refund icon listed underneath the transaction status. 
Trace emails on a ticket holder level. 

 Edit purchase

 Resend purchase email

 Print tickets

 Email trace on a purchaser level-- learn more about monitoring email activity here.​


Export All Sales
Export a .csv of all ticket sales for your event. This export displays the dollar amount, purchaser first and last name, purchaser email, and ticket status.

Export Tickets
Export a .csv of all tickets purchased. This export displays all ticket purchase information, ticket holder first and last name, answers to custom questions, and if they've checked-in via scanning app.
To watch a video walkthrough on managing your ticket sales click here. If you have any additional questions, feel free to email us at cs@ticketbud.com.                                                                             ​