The send invites feature allows you to email your attendees an invitation to your invite-only event. Attendees who receive the invite can only purchase tickets through the link provided in the email. You can send invites individually or via a bulk list upload.
 How To Send Email Invites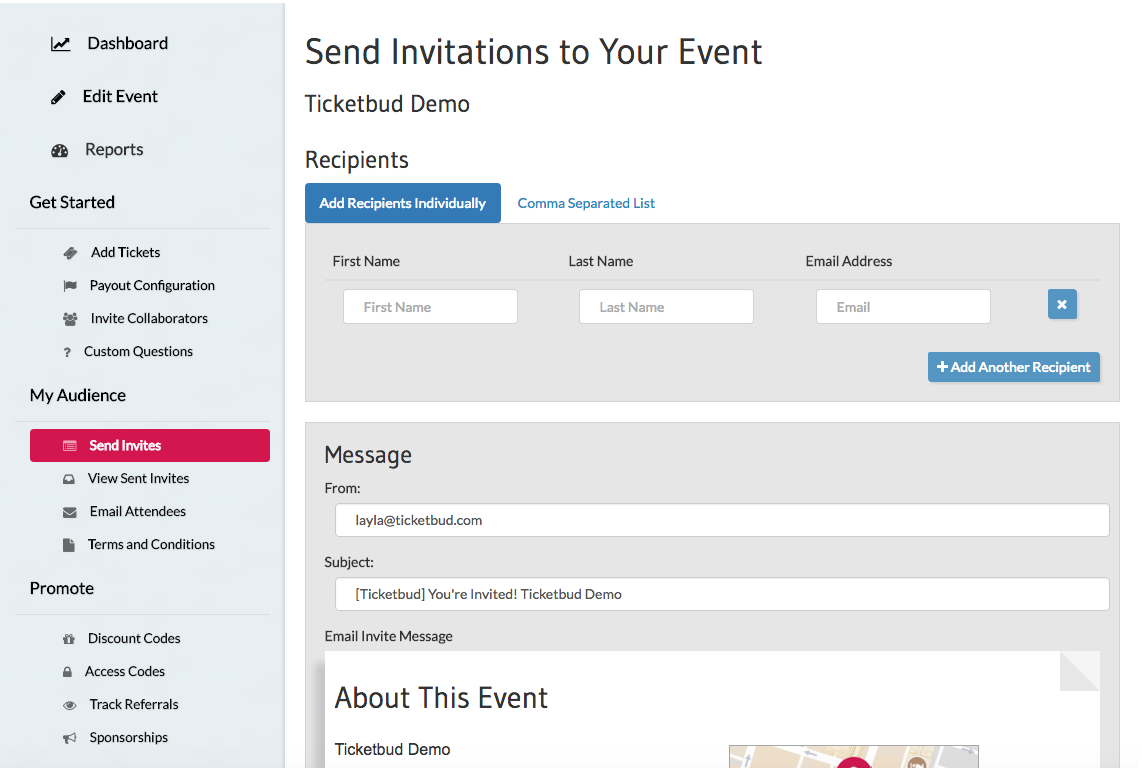 To add recipients individually:
Under the Add Recipients Individually tab enter the attendee's first name, last name, and email address. You can add additional recipients with the Add Another Recipient icon.
Edit the subject line of the email, if needed.
Add a customized message in the field below the default message, if needed.
Agree to our terms of use.
Click Save as Draft to save your email without sending or click Send Now if you're ready to send. 
To add a bulk list of recipients via a comma separated list (.csv) file:

Under the Comma Separated List tab click Browse and upload a .csv file that is in a three-column format: "first_name, last_name, email". This format is required for a successful upload.
Edit the subject line of the email, if needed.
Add a customized message in the field below the default message, if needed.
Agree to our terms of use.
Click Save as Draft to save your email without sending or click Send Now if you're ready to send. 


You can manage your invites by navigating to your event's Dashboard and selecting Sent Invites from the left pane. For more information, check out our Sent Invites help article.
To watch a video walkthrough of how to send invites click here. If you have any additional questions, feel free to email us at cs@ticketbud.com.