The custom URL feature allows you to promote your event by creating a link that is unique and easily shareable. 
How to Create a Custom URL
To get started, sign up or log in to Ticketbud and create an event.  If you've already created an event, click My Events on the top navigation bar and select your current event. Navigate to your event's Dashboard.                                                                                                                        
Underneath the name and date of the event, you will see the current landing page link. Choose the Change URL icon below to make changes.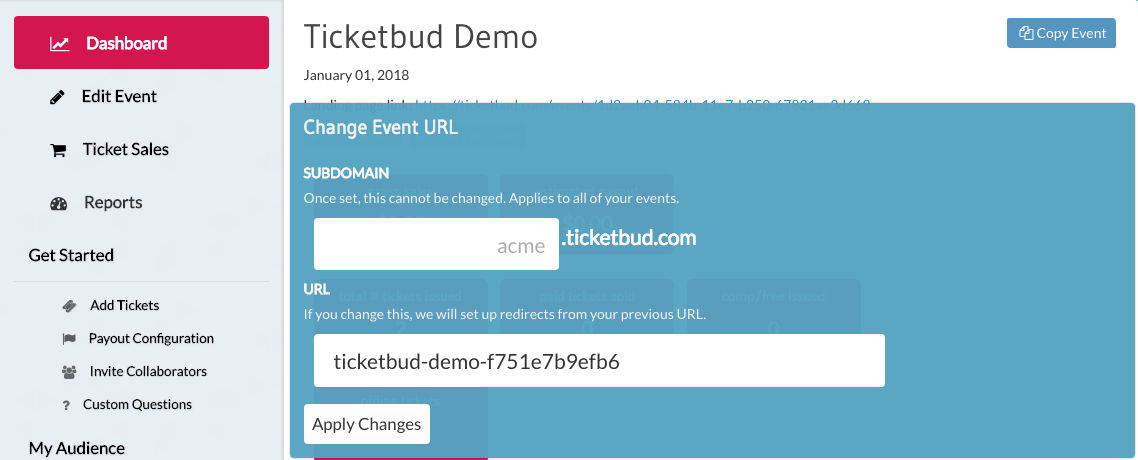 ​
There are two fields associated with the event page URL- the subdomain and the URL. They apply to the event link as follows: subdomain.ticketbud.com/URL. Both the subdomain and URL fields are required to be created. You cannot create a subdomain without a URL, vice versa. 
Subdomain: the subdomain field applies to ALL events associated with the Ticketbud account and CANNOT be changed once set. The subdomain should be generic in nature. We recommend using an organization or business name.
If you have more than one event on Ticketbud, sharing the subdomain.ticketbud.com link will take your attendees to a landing page where all your public events are listed. 
URL: the URL field applies on a per event basis and can be changed once set. We recommend using a URL that is event specific. Sharing the subdomain.ticketbud.com/URL will take your attendees directly to the event page. 


If you have any additional questions, feel free to email us at cs@ticketbud.com.