If you are an event organizer managing multiple bank accounts for an organization, you can connect sub accounts in Stripe to a standalone Ticketbud account by following the steps in this guide.
We highly recommend following the steps below in a private or incognito window in your browser. This will prevent any potential caching issues between accounts and will ensure each account can be connected.
Sign up for Stripe and add bank accounts accordingly. You can add bank accounts by selecting the "+" icon in the top left corner of your dashboard.

Create corresponding Ticketbud accounts and event pages for each bank account.
You'll need to repeat steps 3-5 for each Ticketbud account you would like to connect a separate bank account to.
Visit the Manage page of your event and select Payout Configuration.
Select Stripe.
Login to your Stripe account
Select the bank account from the Switch Accounts dropdown.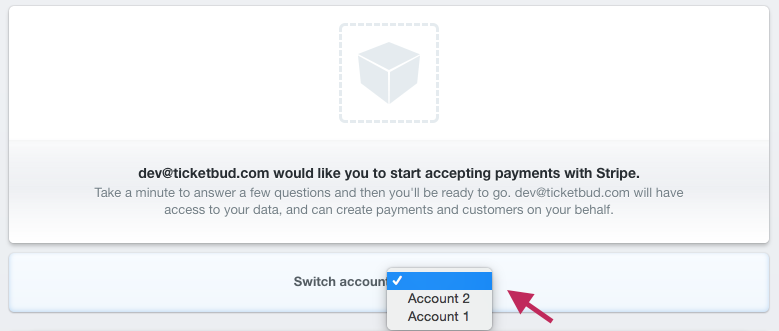 Click the blue activate with your Stripe account icon at the bottom of the page to finalize the connection.
Once your event is activated on Ticketbud, we highly recommend testing out transactions on each event page and confirming that they appear in the appropriate Stripe account.
If you have any additional questions, feel free to email us at cs@ticketbud.com.