Paypal incurs a 2.9% + $0.30 fee per transaction. Attendees will be redirected to PayPal to complete checkout. Receive funds in your bank account 2-5 business days after the funds have posted to your PayPal account. Ticket sale funds generally post to the PayPal account automatically following a successful transaction. Available for most countries and currencies.
When you use PayPal to collect payment for your event, PayPal automatically deducts their payment processing fee before depositing the funds into your PayPal account. You will be collecting the Ticketbud service fee for each sale, which we'll invoice you for at the end of the event.
To accept debit and credit card transactions, you must have a Business or Premier PayPal account. Otherwise, attendees must have a PayPal account to purchase tickets.
To get started, sign up or log in to Ticketbud and create an event. If you've already created an event, click My Events on the top navigation bar and select your current event. Navigate to your event's Dashboard and select Payout Configuration from the left pane.
Choose your event currency from the dropdown menu.
Select PayPal from the processing options.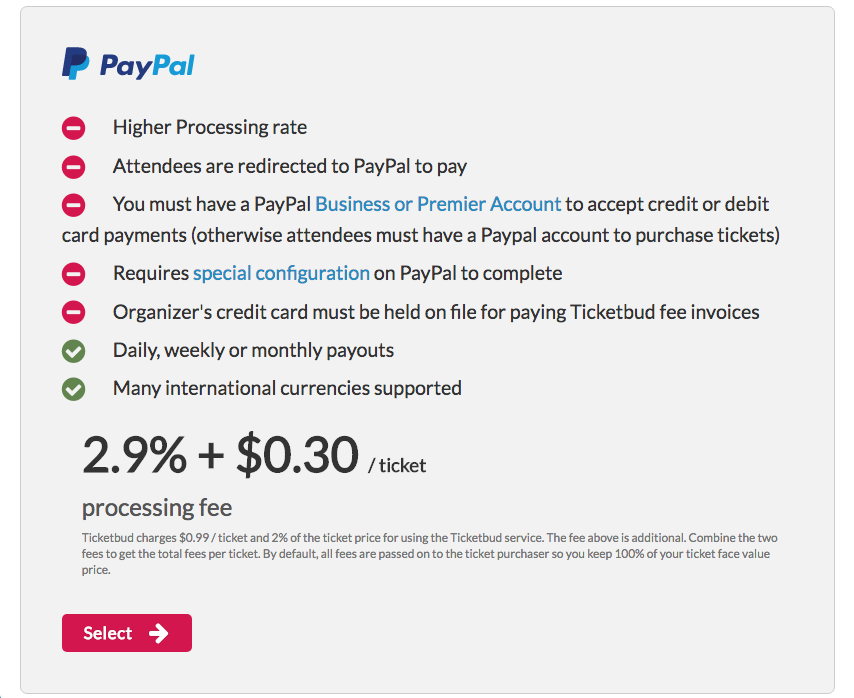 Continue to follow the steps as prompted. Once you've connected to Paypal (assuming all other pending actions are completed), you can activate your event!


Check out our other Paypal guides here. For a more frictionless checkout experience for your attendees, we recommend using one of our alternate payment processors (WePay or Stripe) to process payment. You can read more these options here.
Paypal Terms of Service
If you have questions regarding your Paypal account or payout, please contact Paypal support directly.
If you have any additional questions, feel free to email us at cs@ticketbud.com.